Pocket Guide to Brexit 2018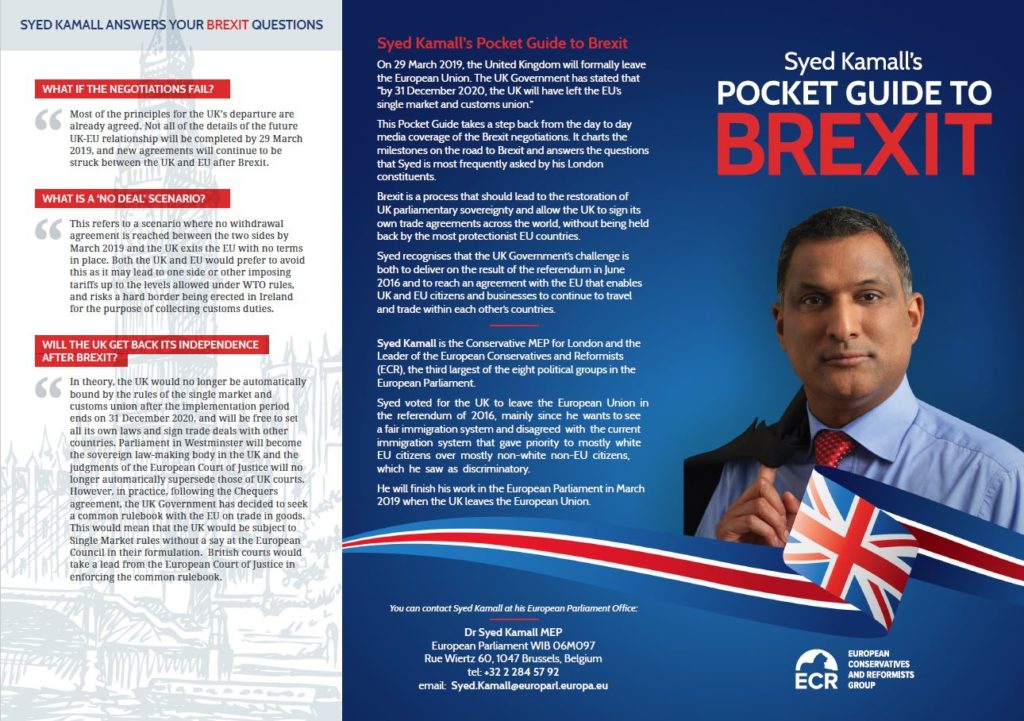 Pocket Guide to Brexit
Everywhere I go people ask me what is happening with Brexit? What is the time scale? What are the issues which are being negotiated?
Well to answer those questions I decided to produce my updated pocket guide to Brexit.
You can download a PDF copy by clicking this link here PocketGuide Download
To give you an idea of what you will find inside, I have copied the introduction below.
As always, I would be delighted to answer any questions you have.
Syed Kamall's Pocket Guide to Brexit
On 29 March 2019, the United Kingdom will formally leave the European Union. The UK Government has stated that "by 31 December 2020, the UK will have left the EU's single market and customs union."
This Pocket Guide takes a step back from the day to day media coverage of the Brexit negotiations. It charts the milestones on the road to Brexit and answers the questions
that Syed is most frequently asked by his London constituents.
Brexit is a process that should lead to the restoration of UK parliamentary sovereignty and allow the UK to sign its own trade agreements across the world, without being held back by the most protectionist EU countries.
Syed recognises that the UK Government's challenge is both to deliver on the result of the referendum in June 2016 and to reach an agreement with the EU that enables UK and EU citizens and businesses to continue to travel and trade within each other's countries.
Syed Kamall is the Conservative MEP for London and the Leader of the European Conservatives and Reformists (ECR), the third largest of the eight political groups in the European Parliament.
Syed voted for the UK to leave the European Union in the referendum of 2016, mainly since he wants to see a fair immigration system and disagreed with the current immigration system that gave priority to mostly white EU citizens over mostly non-white non-EU citizens, which he saw as discriminatory.
He will finish his work in the European Parliament in March 2019 when the UK leaves the European Union.
To keep reading download the full guide here PocketGuide Download
Dr Syed Kamall MEP
European Parliament WIB 06M097
Rue Wiertz 60, 1047 Brussels, Belgium
tel: +32 2 284 57 92
email: Syed.Kamall@europarl.europa.eu