Syed Kamall's Official Photo
Instructions: Please left click on the image you require to access the full size version (note: right clicking will will only save the thumbnail).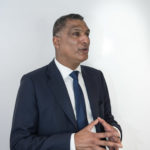 Syed Kamall's Official Biography
For a PDF version for printing hard copies, please click here. SyedBioPDF Nov 2016
Syed Kamall has been Conservative MEP for London since 2005. He is the most senior elected British politician in Brussels, leading the European Conservatives and Reformists Group – the third-largest of the eight political groups in the European Parliament.
He is fiercely proud of his native London, which he always calls the greatest city in the world.
Syed is passionate about politics as a force for good and sits on the advisory board of the Centre for Social Justice, which is at the forefront of identifying the most effective ways to tackle poverty and other social problems.
In London, Syed campaigns on a huge variety of issues from London's technology economy to local community projects.  He works with many local community projects through his work, tackling poverty and social problems, encouraging greater financial independence and entrepreneurship. Among them are charities such as Tree Shepherd who help people out of hardship by helping them set up businesses, and Crowdpatch, which helps local projects raise funds through crowdsourcing.
In Brussels, as well as his high profile role as group leader he sits on the influential Economic and Monetary Affairs Committee, where he fights hard to ensure that the City of London is not over-regulated. He also works on the Committee on International Trade, which gives him scope to push forward a vigorous and open trade agenda.
Syed lives in South West London with his wife and their two sons, who both attend state schools in the capital.
In his rare moments of leisure in London he spends time with his family. In Brussels, he occasionally plays electric bass in a band covering Hendrix numbers
and blues classics.
Born 1967
Education BEng, University of Liverpool
MSc, London School of Economics
PhD, City University London
Career
1987 Joins the UK Conservative party
1989 Business systems analyst, NatWest Bank
1994 Management teaching fellow, Bath university school of management
1996 Management research fellow, Leeds University business school
1997 Associate director, Omega
2001 Consultant, SSK Consulting; Conservative candidate, West Ham
2004 Visiting fellow, Leeds University business school
2005 Became an MEP
2013 Leader, Conservative MEPs
2014 Chairman, European Conservatives and Reformists Group