Using tech to discuss Brexit at Leeds University
As a Visiting Fellow at Leeds University Business School (LUBS), I usually give a lecture to business students every year.
With improvements in technology, I am now able to give my annual lecture directly from my Brussels office via Skype or Google Hangout.
On Friday 11th November, I was asked to discuss Brexit with LUBS students. It was great to show technology at its best, enabling me to link up with students at a time convenient for both sides all through the powers of technology.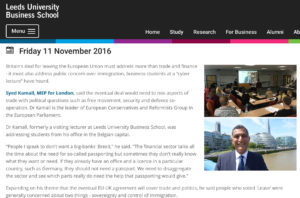 The talk covered Brexit, Article 50 and our options for deals. After my talk, the students took part in a Q&A session which covered the relationship between the EU and UK after Brexit, a fairer immigration systems and how businesses will be affected. You can read their article about the event here and you can see some key points from the event below.