Christmas Card Competition 2018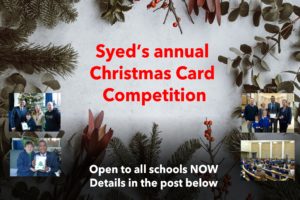 Christmas Card Competition Entry
Not long to go now!
Every year I invite youngsters from across London to take part in my Christmas card competition and every year I get a fantastic response.
If your school would like to take part, it's as easy as sending entries to the following PO BOX number.
I will be reporting back on progress as I search for the winner, and then I will be turning up at the winner's school to surprise them.
I look forward to seeing what everyone comes up with this year.
Please send your entries to…
Office of Syed Kamall (MEP)
P.O.Box 855
Haywards Heath
RH16 9PP